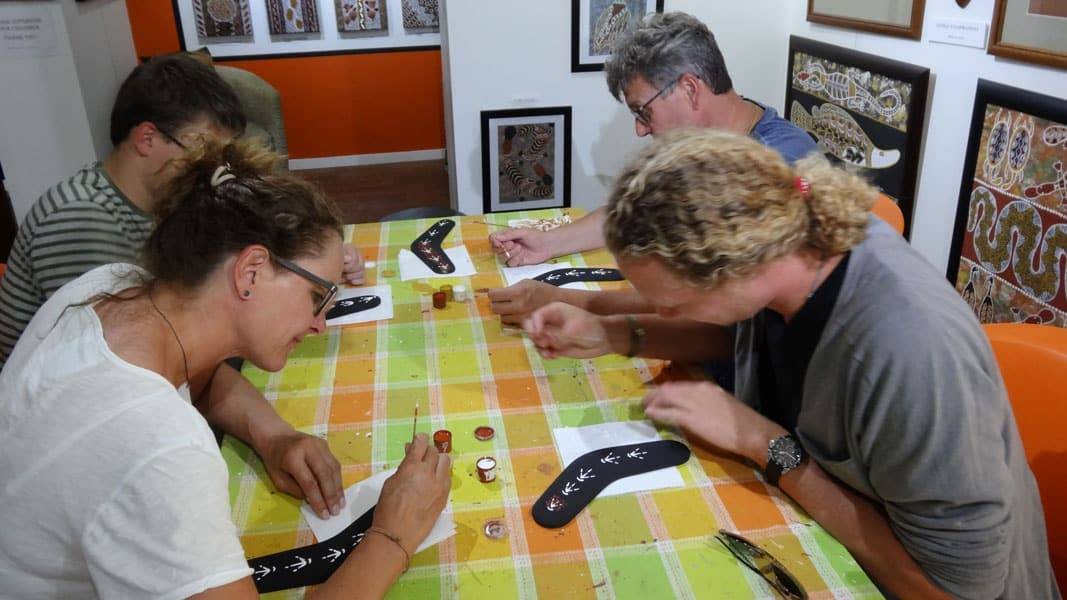 Connect with country by exploring the richly spiritual world of Australian Aboriginal art histories, painting techniques and traditional bush foods.
Dreamtime is a term that describes unique stories and beliefs owned and held by different Australian Aboriginal and Torres Strait Islander groups. The Dreaming is the ancient time of the creation of all things by sacred ancestors, whose spirits continue into the present, as conceived in the beliefs of Australian First Peoples.
Hear from First Nations artists, as they share untold stories through their paintings and create your own little souvenir of Australian art.
Immerse your team in Aboriginal and Torres Strait Islander Cultures
| | | |
| --- | --- | --- |
| Why | Through this experience, you are supporting Australian First Nations artists and spreading awareness in your workplace about their unique and rich cultures. | |
| Team Size | Works well for teams of all sizes. | |
| Duration | Approx. 60-90 minutes | |
Binna is a renowned Aboriginal artist passionate about sharing his knowledge, Dreamtime stories and creative visual interpretations of Kuku Yalanji life with people. Binna began painting at a very young age and has been an artist for over 30 years.
His work is inspired by Kuku Yalanji country; its animals, Great Barrier Reef and Wet Tropics Rainforests. Binna's contemporary style combines traditional Aboriginal techniques, concepts and stories that have been handed down within his family for generations with modern mixed media and textured finishes to create stunning original artworks that have been sought after by private clients and collectors from all over the world who seek a deeper, more personal understanding of Australian Aboriginal cultures.
"Janbal" means Blue Quandon, a rare and vibrant blue skinned rainforest berry eaten by Cassowaries and found in Kuku Yalanji country.
Dreamtime Storytelling and Art Workshop
© 2020 Yum Tum. Zoom is a proprietary trademark of U.S. Zoom Video Communications, Inc. Yum Tum is not affiliated with Zoom nor makes any representations for Zoom. For Zoom's privacy policy please refer to this page. Pictures  or videos of classes are the best available representation of dishes offered in the classes. However, this does not guarantee that the experiences will come out looking exactly the same during a class. Yum Tum and it's instructors are not liable for the end result. Yum Tum and its chefs cannot be held responsible for any injury sustained during a class.