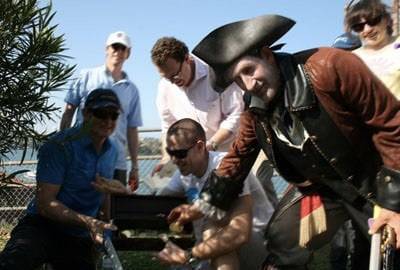 Avast me hearties! Have you always wanted to be a pirate for a day?
Skull Island Treasure Hunts are a great way for your group to work together
as a team in a fun, outdoor environment.
Set sail on one of our vessels in The Rocks or Darling Harbour on a three-hour cruise. The cruise includes approximately one hour on the actual treasure hunt.
Rally your crew for a swashbuckling adventure and be prepared to find some treasure!
Build up your crew's high seas teamwork
| | | |
| --- | --- | --- |
| Why | Through this experience, you are building team cohesiveness and supporting local businesses. | |
| Team Size | Works well for teams of all sizes. | |
| Duration | Approx. 3 hours | |
Your host, Captain Parbuckle has sailed the world and spent a quarter of a century working in traditional sailing ships.
Apart from being a qualified tall ship captain, he is also an actor and folk musician.
Captain Parbuckle and his crew will ensure your Treasure Hunt is an entertaining and memorable experience.
Your Next Class
New team experiences and instructors added each week.
© 2020 Yum Tum. Zoom is a proprietary trademark of U.S. Zoom Video Communications, Inc. Yum Tum is not affiliated with Zoom nor makes any representations for Zoom. For Zoom's privacy policy please refer to this page. Pictures  or videos of classes are the best available representation of dishes offered in the classes. However, this does not guarantee that the experiences will come out looking exactly the same during a class. Yum Tum and it's instructors are not liable for the end result. Yum Tum and its chefs cannot be held responsible for any injury sustained during a class.