Virtual Cooking Challenge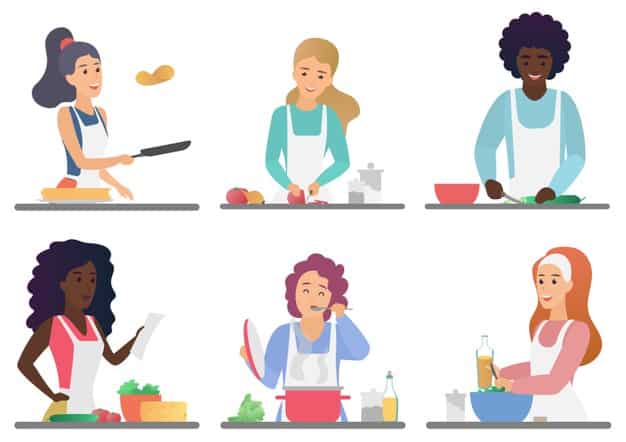 Gather your colleagues. Put on your aprons. Bring out the pots and ladles. Get ready for an immersive cooking experience with your team.
Our virtual cooking challenges take teams through an unforgettable culinary journey with some of the best local chefs.
Whether it's a 2-course gourmet meal with all the trimmings or a dessert with wine – this isn't just about eating, it's the social atmosphere full of glee that makes it even more delicious!
It's not just your everyday food but a great festive feast. The food we all look forward to when we're getting together as a team!
It's not a recipe from a book. Oh no! You're off to an incredibly interactive MasterChef kitchen for this one.
About the Experience
Teams go through an exhilarating cooking experience, with a surprise gift pack,  which includes all the ingredients! After the heated cook-off, it's time to sit down together with a bar of chocolate or a bottle of wine as the entire team prepares and devours the same meal together. Aside from learning how to make a restaurant-style meal under the guidance of a top chef, you'll get ideas on different presentation styles, plating styles and techniques. Who in the team will make the most Insta-worthy dish?
 All our experiences cater to dietary requirements. Here are some popular options:
Dip 'N' Dunk Dumplings

Spec-Taco-Lar Fiesta

Gnocchi Pasta Party

No Worry Curry Night
What to Expect
Fortunately, you don't have to worry about the nitty gritty as we take care of the whole process for you! You get a complete end-to-end service as we take care of the logistics including shipping of ingredients, planning of the event, post-class feedback and video highlights reel.
All that is required of you is to pick a cooking challenge from a seasonal menu, let us now date and time that works for your team, kick back and relax while we serve the best experience to your team on a platter!
Inclusions:
Your experience curator will make contact with you to find out specific details about your team and plan and organise your entire experience
You will receive an invite in the form of a fun poster to get the team excited
All team-members get a calendar invite
A personalised event schedule is created for your team
The most exciting part – host the 90 minute event for the team with a professional chef and an entertaining emcee
Share some great team photos from the event
Collect and share post-event feedback to measure team engagement
Optional Extras:
Create a short video highlights capturing the best team moments

Request a beautifully packaged box with expertly sourced ingredients. If you decide book without the box, we will share recipes that are pantry-friendly for team-members to source ingredients themselves.

Bottle of wine
Why us?
Because we care. Nothing gives us more pleasure than helping businesses improve their company culture, employee well-being and engagement. However, we believe that our track record speaks for itself, having worked with some of the most successful tech companies including Atlassian, Google, Stripe, Canva, Amazon who we continue to retain as clients. As such, see what they have to say in their testimonials on our experiences.
I wanted to say "thanks" for such a fun and awesome cooking experience!  The chef and hosts were superb throughout
, and my fellow managers have all commented on the great time they had!  And of course… the dumplings were delicious!
 I especially loved learning the different ways to fold the dumplings, and appreciated the additional steps/advice given for one-off requests, i.e. 'steaming' the dumplings.
Our entire team had a lot of fun – thanks so much!
That was a fun evening, so much fun and oh-so-delicious!!! My daughter Ella joined in and loved having a lesson too. 
I was honestly surprised how much we all enjoyed it and got a chance to learn some fun trivia about each other.
The chef was so calm and made it easy. We made 35 dumplings together as a team in under a minute! Yay team!
Our entire team had a lot of fun – thanks so much!
Why

Celebrate: As teams we're often guilty of working ourselves hard but not celebrating our wins. Through this experience, you'll be able to celebrate wins and acknowledge all the hard-work the team has put in, which will help build happier and engaged teams.

Culture: Help build connections to create a healthy community and work culture where everyone feels appreciated. Our cooking challenges are a great way to bond and strengthen interpersonal relationships.

Wellbeing: Now more than ever, employee well-being is essential. Virtual cooking is a fun and exciting way to infuse well-being into your work.

Team Size
Works well for teams of all sizes.
Duration
Approx. 90-120 minutes
Chef Charlie lives to eat and is passionate about cooking food that is healthy, fun and delicious. She's an experienced chef with over 10 years of experience. She's fond of travelling as she gets to explore and experiment with different cuisines and flavours. She's a farm to fork practitioner, and passionate about making food locally grown to each pin drop.
"Fusing cultures and techniques to create meal experiences is something I love, and I strive to ensure the food I cook is sustainable & eco friendly. I'm really excited about getting teams to connect over immersive cultural cooking experiences!!!" – Chef Charlie
* Please note: chefs may change
What's in store?
New team experiences and instructors added each week.
© 2020 Yum Tum. Zoom is a proprietary trademark of U.S. Zoom Video Communications, Inc. Yum Tum is not affiliated with Zoom nor makes any representations for Zoom. For Zoom's privacy policy please refer to this page. Pictures  or videos of classes are the best available representation of dishes offered in the classes. However, this does not guarantee that the experiences will come out looking exactly the same during a class. Yum Tum and it's instructors are not liable for the end result. Yum Tum and its chefs cannot be held responsible for any injury sustained during a class.