7 Fun Ideas for Your 2022 Remote Work Christmas Party
2022 – What an interesting year it's been! And it's November already, and there's something else that's potentially on your mind. Isn't there? What's this year's end-of-year party going to look like? We've been thinking hard about this too. 
After running thousands of unique and immersive events for groups and teams, and working for companies like Canva, Pinterest, Google, Atlassian and Stripe, we have put together a winning list of 7 fun ideas for your 2022 Virtual End of Year Party.
Running 2-3 of these experiences is a great way to bring the team together and end the year on a positive note!
Yum Tum is a community initiative born out of Covid-19, to find out more, you can read up about us on Time Out and Vogue.
1. Make a Festive Feast
What would an end-of-year celebration be without food?
Whether it's a 2-course gourmet meal with all the trimmings or a dessert with wine – it's the social atmosphere full of glee that makes it even more delicious.
It's not just your everyday food but a great festive feast. The food we all look forward to in the warm festive season.
But, this isn't just about eating. Gather your colleagues. Put on your aprons. Bring out the pots and ladles. Get ready for an immersive cooking experience with your team.
It's not a recipe from a book. Oh no! You're off to an incredibly interactive MasterChef kitchen for this one.
Through this experience you are building stronger relationships between team members, stimulating creative thinking and supporting local chefs who've been stood down or impacted.
2. Team Manga Portrait
Always wondered what the team would look like as a manga stars?
End the year with a memorable team portrait together. This is one of our MOST popular team experiences, the less said the better.
Bring your team together, learn how to capture your colleagues' personality and come and witness what all the fuss is about yourself.
**Manga sketching is a unique comic style of drawing characters developed in Japan where a focus on the eyes creates insight into the characters personality and emotion. 
Through this experience, you are building team cohesiveness, and supporting local artists and art studios that have been stood down or impacted.

3. Coffiti (Coffee and Graffiti?)
Awaken your inner artist with a cup of coffee! Literally. Coffee isn't your cup of tea? No worries, we have you covered.
This thought-provoking team experience is a BIG hit with coffee aficionados, and is a great way to end-the-year with positivity and something to look forward to.
Remember your new year's resolution for 2020? How's that going?
Whether it's team goals, values, motivational quotes or new year's resolutions, you know how it is. Write something inspirational and audacious in a notebook. Tuck it in a drawer. And then it's gone! Vanished!
But there's a better way to stick to them.
What if we told you, you can learn to paint it in coffee? No, not like the Greek cup of fortune. We mean real espresso.
Take up a brush. Dip it in coffee. And with a master's guidance, write your big hairy audacious goals in beautiful calligraphy.
Do this, and we promise you, your 2021 will be 10 times better than 2020. 
Through this experience you are aligning and motivating team members on shared values, and supporting local baristas and artists who've been stood down or impacted.

4. Blind Wine & Chocolate Tasting
No labels, no packaging, no spectacles – yes, it's a blind tasting (maybe keep the spectacles on). 
Work as a team to uncover the secret wine and chocolates. A great team experience to end the year with celebrations, create an element of surprise, get pampered, indulge your senses and work collaboratively as a team.
Let's see if you're a connoisseur who can tell your wine and cocoa's terroir, and lead your team to victory!
Spend the evening mulling whether it's a Cabernet Sauvignon or Shiraz. Columbian or African cocoa? The real answer might surprise you.
Sommelier-guided blind tastings are a LOT MORE fun than the usual trivia night. 
Through this experience you are fostering a culture of collaboration, and supporting boutique wineries and sommeliers who've been stood down or impacted.
5. Sip n Shake Cocktails
Do you like it shaken or stirred?
Whichever way you prefer it, you can count on an expert mixologist to show you the best way to make a refreshing (and strong) cocktail perfect to celebrate the end of the year.
But the real fun is in mixing it up with your colleagues.Shake it. Stir it. Knock it. Squeeze it. Now do it faster! Who will emerge as the best shaker?
Imagine the excitement of watching Sally, Emma and Rahul join you in making potions fit for a festive celebration. Look out! 👀 Emma added 2 shots of rum to her cocktail.
The summer heat demands a burst of tropical flavours. Piña Colada anyone?
But if you're adventurous, you can go for a blend of spirits. Knock your socks off with a Long Island Iced Tea.
When your Bloody Mary's ready, put your feet up and have a laugh with your colleagues.
Feeling a bit frisky after a cocktail? Then idea #6 is for you.
Through this experience you are bringing the team together over healthy competition, and supporting local bartenders and mixologists who've been stood down or impacted.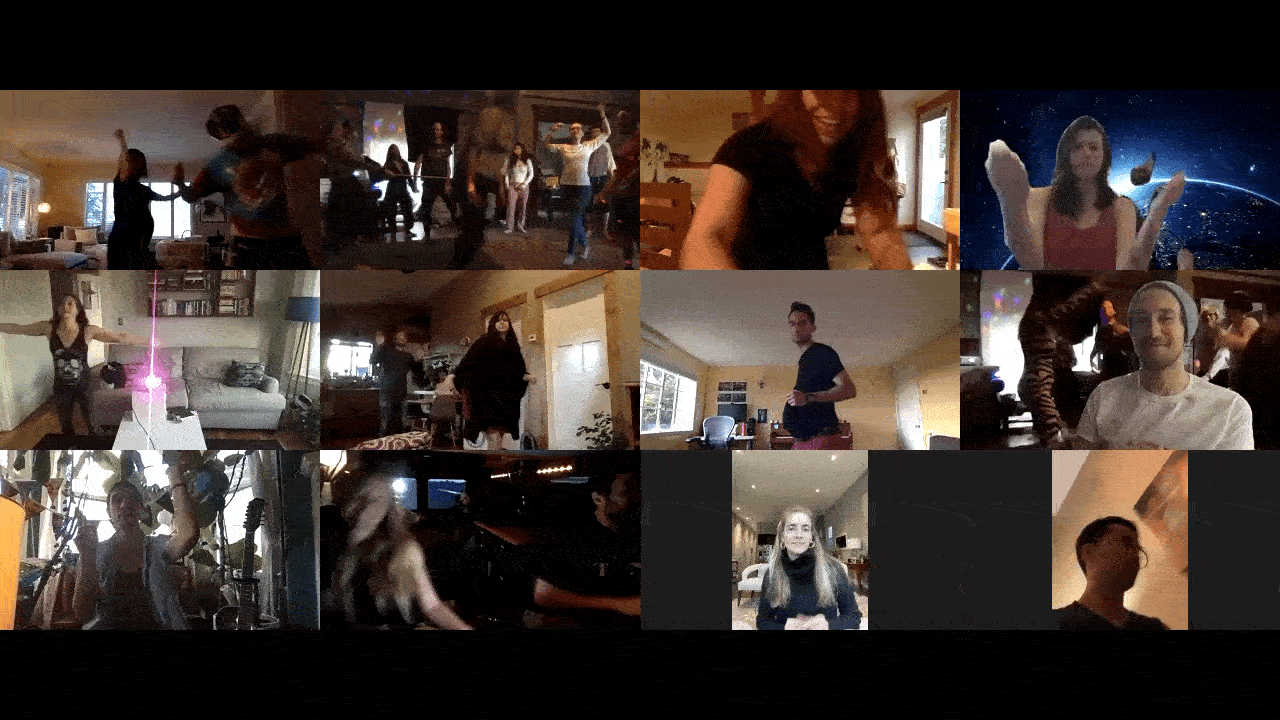 6. Dancing Shoes On
After cocktails and food, it's time to get frisky. Right? Wait! Did you jump straight to this from idea #5 (cocktails)?
If you did it right, that cocktail should have warmed you up and awakened the Olivia Newton-John inside you.
Take a choreography lesson together as a team. Can you learn a team jingle and come together in perfect synchronisation?  (Or dance to your own beat)?
No door prizes, but hampers for the least synchronised team.
There's plenty to choose from – Samba, Bollywood, 80s disco, K-pop.
The dance pros will miss the fog machine and the rave lights. But a live DJ will still be spinning records.
Through this experience team members feel connected and engaged, and you are supporting local choreographers and musicians who've been stood down or impacted.
7. Secret Santa
Who doesn't like a surprise gift in the festive season?
It's the most versatile team activity of them all, and it doesn't take a lot of physical effort. But this team experience will test how well you know your teammates. 
Be sure to drop bold hints about your gift expectations in weekly team catch-ups leading up to the Secret Santa.
Bring the team together over one of our home-office craft experiences, and give your colleague a hand-made gift that's signed, sealed and delivered.
Through this experience you are empowering teams to build stronger relationships and supporting local artists and creative professionals who've been stood down or impacted.
In Closing
We can all agree that 2020 could have been better. But don't let the pandemic fizzle your dreams of a big bash celebration with your team.
Indulge a little, laugh a little, move a little – the small things will add up to a great experience.
We'll admit, it's not easy organising everything on your own. Especially when you have to organise invites, logistics, come up with ideas, make bookings and ten other things.
If you need a hand organising your party – make an enquiry and one our experience-curators will reach out to you to discuss your requirements and take this huge task off your plate. They're experts at creating bespoke experiences for remote teams. Explore at least a dozen other unique experiences for your end-of-year celebration!
Yum Tum is a community-oriented project to help chefs and artisans affected by business disruption due to COVID19.
Leave it to your experience-curator to do all the running around. They'll find a fun and enjoyable experience for your team.
Reach out to us at info@yumtum.co