4 delicious virtual drinks and games to try with your team
Whether you'd like to host a virtual happy hour for the fun of it or want to show some appreciation to your team, having a few virtual drinks is a great way to do it.
However, observing social distancing and organizing a virtual hangout can be time-consuming.
Additionally, you need to decide which drinks to suggest and a few games to keep everyone entertained.
In this article, we'll cover a few delicious cocktail recipes, some fun virtual drinking games to play, and the easiest way of organizing a virtual get-together.
This Article Contains: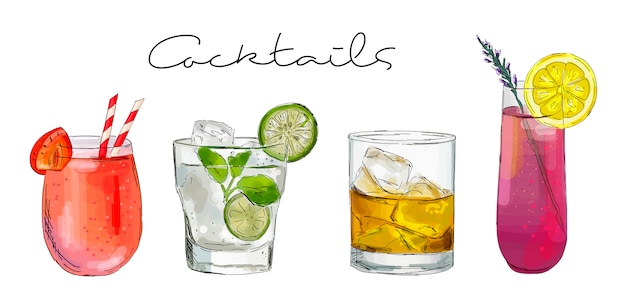 1. Red wine spritzer
A red wine spritzer is a great tasting alternative to a simple glass of wine. It's the perfect cocktail to enjoy during your virtual hangout since it's an incredibly simple cocktail recipe, requiring only two ingredients and about five minutes. You can also spice this classic cocktail up by adding lemon juice, flavored syrups, or bitters.
Ingredients:
Red wine

Club soda

Oranges, lemon, or mint for garnish
Steps:
Fill your glass of choice with ice

Fill the glass about halfway with red wine

Top it off with a club soda. You could also use Sprite for a sweeter twist

Stir and enjoy.
2. Old Fashioned
The first documented definition of a cocktail described it as a concoction of spirits, water, sugar, and bitters. That's essentially the recipe for an Old Fashioned. It's a great cocktail to pick for a virtual happy hour because it's easy to make and doesn't require a ton of ingredients or preparation.
Start by ensuring you use a good bourbon. As a general rule, you shouldn't use it in your cocktail if you wouldn't drink it neat. Next, you need to decide between using sugar or simple syrup.
A pinch of sugar is the easiest option, but using simple syrup provides texture and flavor depth that sugar doesn't provide. But bear in mind that simple syrup adds water to your cocktail, so you may need to adjust the amount of ice you include.
Ingredients:
½ teaspoon sugar

3 dashes of Angostura bitters

1 teaspoon water

2 ounces bourbon

Orange peel for garnish
Steps:
Add sugar or simple syrup and bitters to a rocks glass, add the water, and stir until the sugar has almost dissolved.

Fill the glass with ice, add the bourbon, and stir gently.

Express the oil of an orange peel over the rim of the glass and add it to the drink.
3. Mai Tai
The Mai Tai is one of those delicious cocktails everyone should try. Trader Vic's is often credited as the birthplace of the Mai Tai in the 1940s, but it's believed Don the Beachcomber bar laid the groundwork for this cocktail in the 1930s.
The drink suffered slightly in recent decades as bartenders favored neon, overly sugary drinks. Fortunately, bartenders have taken the recipe back to its roots.
This delicious classic cocktail is versatile, making it the perfect cocktail for a virtual happy hour. Some Mai Tai's feature garnish like pineapple wedges and cherries so feel free to be extravagant during your virtual cocktail hour. However, you can't go wrong with a lime wheel and mint sprig for a more classic appearance.
Ingredients:
1½ ounces white rim

¾ ounce orange curacao

¾ ounce freshly squeezed lime juice

½ ounce orgeat

½ ounce dark rum

Lime wheel and mint sprig for garnish
Steps:
Add the white rum, curacao, lime juice, and orgeat to a cocktail shaker with crushed ice and shake lightly for about 3 seconds.

Pour the contents into a double rocks glass

Use a teaspoon to float the dark rum over the top

Garnish with a lime wheel and mint sprig
4. Espresso Martini
If you're looking for a great tasting energy boost during your virtual happy hour, an Espresso Martini might be what's needed. This delicious cocktail has been a mainstay among late nights out since its debut in Fred's Club in London in the 1980s. In addition to a shot of espresso, the cocktail also features Kahlúa, a coffee liqueur.
If you have an espresso machine, make a shot and then put it in the freezer. That'll prevent the hot coffee from melting the ice and diluting the drink. Don't stress if you don't have a coffee machine; a cold brew concentrate is a good substitute.
Ingredients:
2 ounces vodka

½ ounces coffee liqueur

1-ounce espresso (either freshly brewed or cold brew concentrate)

½ ounce simple syrup

Coffee beans for garnish
Steps:
Add vodka, coffee liqueur, espresso, and simple syrup to a cocktail shaker filled with ice and shake until chilled.

Strain to a chilled martini glass

Garnish with 3 coffee beans
While sipping on some delicious homemade drinks is a solid start to your virtual party, your team needs entertainment. Let's look at a few fun games you could play.
3 games to play while sipping your virtual drinks
Fortunately, there is no shortage of happy hour games to play with your attendees. Here are a few fun virtual games to enjoy with your guests and team members.
1. Would you rather?
Aside from the video call platform, this game requires no third-party accessories, just some questions and the ability to work through tough decisions. Ask your team members to compile a small list of starter questions. They could be funny or thought-provoking, and then everyone shares which options they'd select. The losing team must then have a drink.
The game is also great for getting to know any newer members.
2. Netflix Party
For a more chilled evening with your team, why not consider a TV watch party? Netflix Party is a great option for this.
Once you and your team have their drinks in hand, get comfy and download Netflix Party. Your whole team can then watch simultaneously with group chat capabilities.
There's also potential to turn this into a drinking game should you wish. You can pick a show on Netflix and tailor the game to what everyone's watching.
For example, if everyone decides to watch a popular show, some rules could be to drink when a character mentions a certain phrase or when anyone in the movie drinks, and when a song begins.
3. Trivia
Who doesn't enjoy a game of trivia?
Compile a list of popular trivia questions and assign each person to a team. You can turn it into a virtual drinking game by using the drinks as penalties for wrong answers.
For every wrong answer, each player on the team takes a sip. You could even assign several sips based on the question's difficulty. For example, getting an easy question wrong could be three sips, while a tricky question could be one sip.
What's the easiest way to organize a virtual drinks party?
If you can't find the time to organize the various drinks, ingredients, and entertainment, consider YumTum. YumTum's Sip N Shake Cocktails masterclass is the perfect bonding experience for your remote team.
No matter your preference, YumTum's expert mixologist will have your attendees mixing drinks like professionals in no time.
Wondering how it works?
A curator from YumTum will contact you regarding specific details about your team and organize the experience.
You will then receive a fun invitation to get the whole team excited.
Your whole team receives a calendar invite.
YumTum then creates a personalized event schedule for your team.
A professional bartender hosts the 90-minute class with an emcee.
The whole event is memorialized with team photos.
You can also request a cocktail kit containing ingredients, spirits, and mixers to make it even easier. If you decide against the kits, YumTum will share a pantry-friendly cocktail recipe or two so your team can source the ingredients themselves.
YumTum: The easiest way to enjoy virtual drinks
If you'd like to grab more than a beer with your team members, a virtual cocktail party could be what the doctor ordered. However, organizing a virtual event can be just as stressful as an in person one.
That's why you should consider booking YumTum's Sip N Shake Cocktail class. It's a fantastic virtual experience and the perfect way for your team to bond while enjoying their new favorite drink.