7 virtual happy hour benefits and 3 fun virtual games
Whether you're part of a remote work team or observing social distancing rules, the time-honored tradition of the after-work happy hour has evolved. Hosting happy hours has a range of benefits, and to make it more engaging, we've also shared some ideas for fun games you can play with your colleagues!
Using a video conferencing platform like Microsoft Teams, Google Hangout, Zoom, or Facebook Live, employees can continue to enjoy the virtual happy hour benefits.
But what are these benefits?
In this article, we'll cover some benefits of a virtual happy hour, a few fun games to play, and suggest the easiest way of hosting an incredible virtual happy hour.
This Article Contains:
7 virtual happy hour benefits
There are tons of virtual happy hour benefits, including:
1. Developing team spirit
It's vital to acknowledge that workdays can be long and stressful, underpinning the importance of decompressing. 
Most people relax at home or with some friends after work. If you can cultivate the same type of relationship with your remote team, your employees will feel that there's a strong company culture and that it recognizes its employee's need to have fun and socialize.
Making some time for a weekly virtual happy hour can be a great way to build a positive work environment and celebrate your employees' good work.
There doesn't necessarily have to be something specific to celebrate. 
There's always an occasion worth toasting to! 
A remote employee may be having a birthday, or maybe the company reached an important milestone. If it's worthy of a drink, make it a virtual event.
Employees will appreciate a fun virtual team building activity. Good company culture also shows employees are valued beyond just their work. It's also an opportunity for the attendees to connect about things in their personal and professional lives.
2. Improved productivity
Happy employees are productive employees. If you want an active workforce, it's essential to acknowledge how your employees feel. And, of course, happiness isn't always achieved with more money. Employees need to be stimulated and have enjoyable work-related experiences.
A virtual happy hour event could be a fun way of achieving this. It's an opportunity for each team member to take their minds off some of the more stressful aspects of their life and spend some quality time with coworkers.
Virtual team building activities can leave your remote workers feeling refreshed, energized, and ready to work.
3. Improves employee retention
Having a healthy work-life balance is an essential factor for every remote team. Ensuring each team member has enough personal time is just as important as their work time. Companies that fail to do this will likely struggle with retaining their employees.
Giving your employees some time to socialize outside of the work environment fosters a healthy company culture and will attract great employees looking for an excellent place to work. It'll also go a long way in ensuring the company doesn't lose its most valuable employees.
4. Cost-effective
Of course, taking your team out to a banquet sounds like a great way of showing appreciation. However, the cost involved will likely outweigh any positive returns and can make it unnecessarily stressful for your employees.
Instead, hosting a casual virtual hangout is far more cost-effective. It's also easier for a remote employee to skip it while minimizing any anxiety they might feel about a big event. Inviting your colleagues to a fun virtual event with a beer or glass of wine and some homemade (or store-bought) appetizers never fails.
5. A networking event opportunity
Exchanging information and discussing ideas can be done more effectively over a video chat in a neutral setting, such as during an informal virtual meeting. Having a conversation with a client about a challenging project or new ideas over a relaxed video chat with a drink can be more effective than in an office setting.
Turn a networking event into a virtual hangout, and you may find it builds a solid foundation for rapport with the client, encourages communication, and makes the relationship more friendly and less business-focused.
6. Creativity
Another benefit to a virtual happy hour is that you don't need to limit it to just a drink. You could do almost anything you want with it. You could try a House Party alternative, charades, Netflix Party, or a scavenger hunt to list a few.
While it may sound counterintuitive at first to encourage your virtual team to have a drink on the job, a remote happy hour can do wonders for your virtual team. No matter what you decide, hosting a successful virtual happy hour can significantly impact your team's performance and improve their work-life balance.
7. Meet new people
A virtual happy hour doesn't have to be limited to coworkers or even employees. Instead, it could be an opportunity for your attendees to invite friends, even if they're on the other side of the country or the planet. Though bear in mind any time zone differences.
By allowing a plus one, you minimize the chance of your virtual happy hour event turning into a work-related meeting. Humans are also social creatures, and socializing is fantastic for mental health. 
In fact, studies have shown that people who socialize regularly live longer. Inviting additional guests allows your remote workers to meet new people. This could be the catalyst for your employees to discover new things about themselves and the world, even if it's just their new favorite restaurant.
On that note, let's look at some team building activities.
3 virtual happy hour games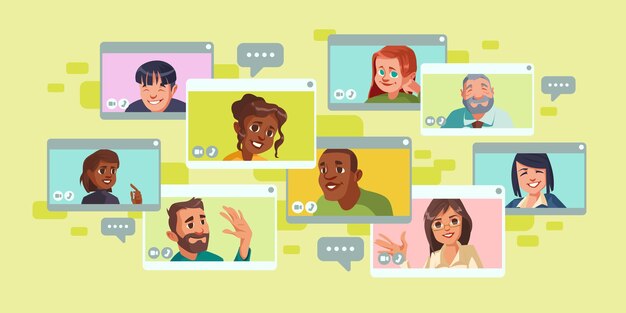 Here are a few Zoom happy hour ideas to try during your next virtual meeting.
1. Trivia
Trivia is not just a fun game; studies have shown that playing trivia releases dopamine. Combine that with good company, and you have a fun way of celebrating a virtual happy hour. 
Of course, you can create your own trivia questions for a more personalized experience, but there are a few online trivia games you could use. Although House Party no longer exists, Kahoot! is a good alternative.
2. Netflix Party
Netflix Party is another virtual happy hour idea. Connect with your remote team over a mutually loved movie. All your guests will likely need a Netflix account, so be sure to confirm ahead of time. 
You could also send out an email in advance asking each person for suggestions regarding their favorite comedies. You could then compile the answers into a poll and ask everyone to vote. The winner is the featured film of the night.
3. Escape Room Games
Who doesn't love a challenge?
You can add a problem solving element to your Zoom happy hour with "The Great Race", a virtual happy hour game YumTum offers! 
In this virtual happy hour activity, teams can work together solving riddles and completing puzzles against the clock in order to "escape the room."
What's the best way of hosting a successful virtual happy hour?
YumTum is the perfect solution for anyone wanting to take the hassle out of hosting a memorable virtual happy hour for the whole team. 
There are lots of activities to choose between, from a cocktail-making masterclass and chef-led cooking lessons to a music jam session.
No matter your team's preference, you're sure to find something to make your Zoom happy hour a topic of conversation for a long time to come.
The cherry on top?
YumTum handles all the hard work. You get a complete end-to-end experience without having to worry about the nitty-gritty. Alternatively, you can reach out to them, and they'll get back to you with some ideas for your next virtual happy hour activity.
Hosting a virtual happy hour is easier than ever with YumTum
Hosting a remote happy hour is infinitely better than a simple video call and can do wonders for your team's performance. However, it can be a time-consuming undertaking.
In this case, why not let YumTum handle it for you? 
With an array of fun-filled activities to pick from, your team is bound to find a fun game they love.